Local Dentists Named Diplomate in Implant Dentistry
June 5, 2018 | Announcement
From: Kathleen M. Huttner Executive Director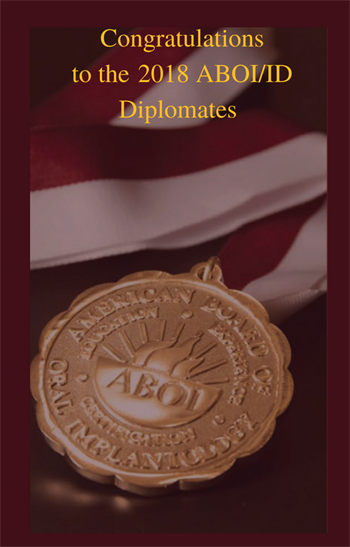 CHICAGO—On May 17, 2018 after passing a rigorous examination on implant dentistry, the following doctors joined 500 other dentists in the United States, Canada and Internationally in becoming a Diplomate of the American Board of Oral Implantology/Implant Dentistry (ABOI/ID), making each passing doctors one of the nation's leading experts in implant care.
Mohamad Taisir Albik, DDS, Elk Grove, CA
Fadi Alhrashi, DDS, Herndon, VA
Jeffrey G. Allred, DDS, Sam Marcos, CA
Alaa W AlQutub, BDS, M.Sc, Malden, MA
German Arzate, DDS, Cancun, Mexico
John M. Barksdale, DDS, Baton Rouge, LA
Bhavesh B. Bhakta, DDS, Austin, TX
Steven E. Brock, DDS, Knoxville, TN
Andrea M. Company, DDS, Canton, OH
Robert V. Costello, DDS, Monroe, LA
Omar E. ElBanhawy, DDS, MS, West Bloomfield, MI
Katherine Ferguson, DMD, Weston, FL
Russell D. Fitton III, DDS, Barrington, IL
Eric M. George, DMD, Newport, RI
Amir S. Guorgui, DMD, Woodbridge, Ontario, Canada
Raouf Hanna, DDS, MS, Houston, TX
Gregg C. Hendrickson, DDS, Henderson, NV
Gregory Kammeyer, DDS, MS, Sun City West, AZ
Russell Kiser II, DDS, MS, Mansfield, OH
Alina Krivitsky, DDS, Los Angeles, CA
John J. Perna, DDS, Oak Park, IL
Craig A. Schlie, DDS, Redding, CA
Trevor R. Shew, DMD, Vancouver, BC, Canada
Mario A. Silvestri, DDS, Vestal, NY
Samantha Aysegul Siranli, DMD, PhD, Washington, DC
Robert J. Stanley, DDS, Cary, NC
Sarat Chandra Ummethala, DDS, MBA, Loma Linda, CA
Gurinder S. Wadhwa, DDS, MA, Albany, NY
Peter Zahedi, DMD, San Rafael, CA
Mahmood M. Zaitr, DDS, BDS, Clifton, NJ
To sit for the examination, each doctor was required to practice implant dentistry for at least seven years and prove his implant expertise. To earn the title of Diplomate, the doctors presented cases for review by an expert panel of implant dentists and passed a series of written and oral examinations sponsored by the American Board of Oral Implantology/Implant Dentistry.
The ABOI/ID's examination process measures the in-depth knowledge, proficient skills, and abilities required for practitioners to provide comprehensive, safe, and effective oral implant care for the public.
The ABOI/ID was founded in 1969 and conducts examinations to determine the qualifications and competence of dentists who voluntarily apply to the Board for certification.
For information on the 2019 ABOI/ID certification examination application, please click here.