Distinguish Yourself
Become Certified in Oral Implantology / Implant Dentistry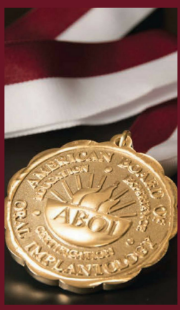 PART II ORAL EXAM APPLICATION DEADLINE HAS BEEN EXTENDED!
FRIDAY, FEBRUARY 24, 2023
The ABOI Board of Directors inducted 40 new Diplomates during the AAID Annual Meeting in Dallas Texas. Congratulations to the newest ABOI Diplomates !!
Who We Are
The American Board of Oral Implantology/Implant Dentistry (ABOI/ID) was established by the American Academy of Implant Dentistry (AAID) its sponsoring organization. The purpose was to elevate the standards and advance the science and art of Oral Implantology/Implant Dentistry by encouraging its study and improving its practice.
The Boards mission is to certify individuals at the highest standards of competency in diagnosis, surgery and prosthetic treatment in the specialty of Implant Dentistry and ensure their current knowledge and skills for the safety of the public.
The Diplomate designation awarded by the American Board of Oral Implantology/Implant Dentistry is the highest credential available for practitioners to achieve in the practice of oral implantology.
The ABOI/ID is a member of the American Board of Dental Specialties (ABDS), an independent organization of member dental specialty boards with shared goals and standards related to the certification of dental specialists.