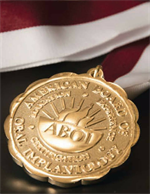 ANNOUNCEMENT: As of May 2020, the American Board of Oral Implantology/Implant Dentistry application and examination fee has been updated. Please download the updated Part I application and/or the updated Candidate Handbook. Due to COVID, ABOI/ID is requesting all applications, and case submissions are sent via email to applications@aboi.org.
The American Board of Oral Implantology/Implant Dentistry (ABOI/ID) Part I written examination will no longer be administered in paper/pencil format. The ABOI/ID has moved to administering the part I written examination at Pearson Testing Centers. More detailed information will be released late summer or early fall of this year.
The American Board of Oral Implantology/Implant Dentistry is the premier implantology certifying organization recognized by the American Board of Dental Specialties (ABDS).
The ABOI/ID Diplomate designation symbolizes the highest level of competence in implant dentistry. Certification by the ABOI/ID attests to the fact that a dentist has demonstrated knowledge, ability, and proficiency in implant dentistry through a rigorous examination process.
If you are not a Diplomate of the ABOI/ID, and are interested in finding out more information, please review application procedures on how to become a Diplomate or contact the ABOI/ID Headquarters.
If you are a patient looking for a highly qualified dental implantologist, use our Find a Diplomate tool to search by name and/or location.
ABOI/ID 2020 Updated Policies
Click here to review the ABOI/ID 2020 Updated Policies.
Receive dental resource information and regular COVID-19 updates at the ADA Coronavirus Center for Dentists.
Click here for COVID-19 Updates and Resources from the AAID.