ABOI/ID Comprehensive Board Review Course
Course
Thursday, March 16, 2023–Sunday, March 19, 2023
---
Description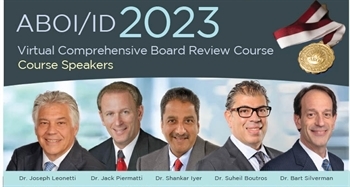 If you plan on challenging the ABOI Diplomate examination this program will serve as a guide for you to determine what you need to review prior to the examination. This program has a strong emphasis on the oral examination but will also be helpful with the written examination.
The program will be held virtually March 16-19, 2023.
Click on the links below for the full schedule and registration.
Please note course times are Eastern Standard Time.
2023 Board Review Course Schedule
2023 Board Review Course Registration Form
«
All upcoming events