Profile
Suzanna N. Lee
AAACD, DABOI, FAAID, DICOI, MAGD, FDOC
Allure Dental Center
570 N Shoreline Blvd
Mountain View, CA 94043
US (map)
(650) 988-9998 phone
(650) 988-7095 fax
www.alluredentalcenter.com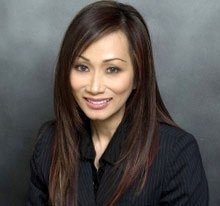 ---
Type
Diplomate, American Board of Oral Implantology/ Implant Dentistry
Diplomate Bio
Doctor of Dental Surgery (DDS), University of the Pacific Arthur A. Dugoni School of Dentistry.
Accredited Member, American Academy of Cosmetic Dentistry (AAACD).
Diplomate, American Board of Oral Implantology/Implant Dentistry (DABOI/ID).
Fellow, American Academy of Implant Dentistry (FAAID).
Diplomate, International Congress of Oral Implantology (DICOI).
Master, Academy of General Dentistry (MAGD).
Fellow, Dental Oral Conscious Sedation (FDOCS).
Dr. Suzanna Lee, practicing together with her sister, Dr. Trinh Lee, at Allure Dental Center in Mountain View, CA, formed a dental team of exceptional skills, talents and expertise. They enjoy helping each of their patients improve their health, appearance, lifestyle and self-esteem by creating the smile of their dreams, while maintaining the health and function of their teeth, gums and bite.