Profile
Igor Kaplansky, DDS, DABOI/ID
President
Teeth Now Buffalo
8038 Rochester Rd.
Gasport, NY 14067
US (map)
(716) 772-7500 phone
www.drkaplansky.com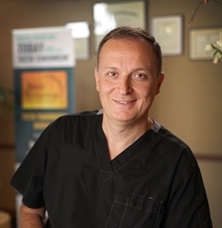 ---
Type
Diplomate, American Board of Oral Implantology/ Implant Dentistry
Diplomate Bio
Born in USSR, Dr. Kaplansky graduated from Novosibirsk State Medical University in 1993 with his first dental degree. After completing a residency program at the Department of Prosthodontics he moved to the USA to advance his knowledge. In 1998 after graduating from University at Buffalo, School of Dental Medicine with a Doctor of Dental Surgery degree Cum Laude, Dr. Kaplansky continued his training as a resident in the Advanced General Dentistry program at UB.
Since 1999, he's been practicing comprehensive restorative dentistry with a special interest in orthodontics and dental implants.
Dr. Kaplansky received fellowship awards from the Academy of General Dentistry in 2003 and the International Congress of Oral Implantologists in 2008.
Dr. Kaplansky has a passion for dentistry he loves helping his patients look and feel better. When not in the office, he enjoys spending time with family, traveling, and the great outdoors.